Tis the season to be gaming: Christmas Preview – 3
| October 27th, 2012 |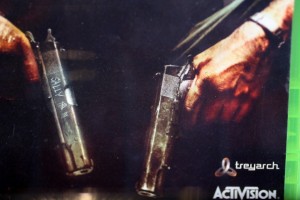 Part 3: Call of Duty: Black Ops 2 sees Treyarch take the reins for 2012 and the developer is really shaking things up with their sequel to the record breaking Black Ops.
After taking a look at the two portable titles that are set to hit the PlayStation Vita this Holiday season, it is now time to look at some of the major console releases set for release between the end October to end December period.
Call of Duty: Black Ops
Release Date: set to hit the PlayStation 3, Xbox 360 and PCs on the 13th of November, while Wii U owners in North America will have to wait until the 18th of November and European Wii U owners will have to wait an extra 12 days until the 30th of November as well.
The undisputed king of the first-person shooter genre, the Call of Duty series, is set to release another instalment in its money-printing franchise. Many will argue with awarding the series the title of 'king', however, in terms of fan base, sales and hours spent playing the game by gamers worldwide, no other game in the first-person shooter genre can compare.
However, rather than resting on their laurels, something that the Modern Warfare series seems to do, Treyarch is really shaking things up with Black Ops 2. The cold war and Vietnam war have been ditched in favour of a futuristic setting of attack drones and some savvy weaponry.
This sees a major shift from the studios previous work as it can now qualify as a sci-fi shooter without too much of a hassle. The gameplay has also seen a tweak with side objectives and choices having to be made by the player in each mission, which was put in place to add an element of replayability.
Throw in the revamped Zombies mode and well, the game seems as if it could sell on that alone. Many be skeptical regarding the single-player campaign, but when it comes to the Zombies mode, he game could have a real selling point.
The new Zombies mode has three playthrough options. The first is the classic, survive endless waves in a specific area mode, which fans of the series will be familiar with. The second is the same mode but it takes place in an open-world environment with players able to travel from location to location on a bus.
The last mode sees two groups of four players attempt to out-survive their opponents with neither team able to kill their opposing team's members.
All in all, this game is a major risk but it could pay off in a big way.
Disclaimer: the views and opinions expressed in this article are the writer's own and do not reflect the editorial policy of wishfree.com