Tis the season to be gaming: Christmas Preview – 4
| October 28th, 2012 |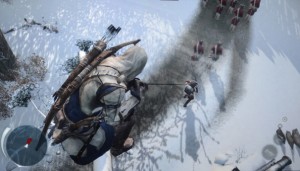 Part 4: Sticking to the portable-to-console games trend we take a look at Assassin's Creed 3 and why it has the potential to completely reinvent the series.
After looking at Black Ops: Declassified and Black Ops 2, it would only be logical to look at Assassin's Creed 3 after earlier taking a look at Assassin's Creed 3: Liberation. So let's just jump right into it, a bale of hay that is.
Assassin's Creed 3
Release Date: This game has more release dates than an NFL team has players on its roster. That may be bit of an exaggeration but Ubisoft's latest game is set for release on the 30th of October in North America and 31st of October in Europe. That is, for the PlayStation 3 and Xbox 360.
For PCs the game will hit North America on the 20th of November and Europe on the 23rd of the same month, while Wii U owners in North America will have to wait until the 18th of November and European owners will have to wait until the 30th of November before they can get their hands on the game.
Before we jump into any nitty-gritty details about the game one needs to understand just how much of their weight Ubisoft is throwing behind the game. The publisher is releasing a total of 7 editions of the game.
They are the Standard Edition, the Special Edition, the Join or Die Edition, the Freedom Edition, the UbiWorkshop Edition, the Limited Edition and the Digital Deluxe Edition. Each of these Editions has its own specific content on offer for players including DLC packs and encyclopedias and even statues.
As for the plot, well this game ditches Constantinople, Masyaf, Italy and Greece for the American Revolution as characters take control of a half-British, half-native Indian character by the name of Connor, as they look to continue the Assassin's Creed's war against their bitter enemies, the Templar Order.
The game is aiming to be a lot more expansive this time around as players will be able to hunt, traverse large areas, join clubs and clans and pretty much do everything players could do in Red Dead Redemption.
Many have drawn comparisons between the two games, but there are a number of differences as well.
The game is also set to feature a multiplayer mode as It continues to build on the successful player versus player mode introduced in earlier installments of the game.
The engine used to power the game will be able to render huge battle sequences and it will be interesting to see how Ubisoft take advantage of that.
Disclaimer: the views and opinions expressed in this article are the writer's own and do not reflect the editorial policy of wishfree.com
Other People Are Reading