Tomb Raider details announced via Twitter
| November 29th, 2012 |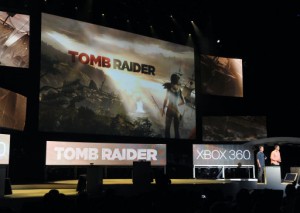 Lara Croft won't be swimming, the length of the game is between 12-15 hours and the developers love twists. Oh, and there's more.
Tomb Raider was one of the titles that greatly impressed during this year's E3. The game, alongside the likes of Resident Evil 6 and Far Cry 3 caught the eye along with the usual suspects in attendance as well.
However, Far Cry 3 was as impressive as Resident Evil 6 was brilliant at dividing opinion. The former seems to have put the Far Cry series back on the map with its expansive scale and triple-A values with many in agreement that the series has finally lived up to its potential. On the other hand Resident Evil 6 had purists feeling alienated while at the same time it brought in a host of new players as well.
It will be interesting to see which direction Tomb Raider takes in terms of how fans and critics will take to the game. Will it be accepted with open arms by the series loyal following and please first time Tomb Raider gamers as well, or will it be a triple-A disappointment.
So far, from what the gaming world has seen the game has drawn comparisons to Naughty Dog's stellar Uncharted series, which is not a bad thing by any stretch of the imagination. However, there were a number of details which the gameplay trailers did not touch on.
Those details were revealed via a Twitter interview with the global brand director or Crystal Dynamics, Karl Stewart.
She explained that the game could last players anywhere between 12 to 15+ plus hours depending on how they played the game. One can assume that elements of stealth will be in the game as well as the trailers hinted towards.
At the same time, it was also revealed that "Lara can swim", which was nice to hear while the next statement was confounding. It continued, "but just not in this game". Seeing how it is an origin story it would be best to forget Lara's underwater feats from the other games for now.
The story will also have the odd twist or two as a tweet read, "We love twists here at Crystal D."
Lastly, Karl Stewart also revealed that if the first game proved to be a success then a sequel would be on its way. Whether or not Lara would be back in shorts by then remains a matter of much speculation.
Bad jokes apart there is plenty riding on the game including the rebirth of one of the gaming world's most iconic characters.
But what about the reader; are you looking forward to the reboot of the Tomb Raider series or not? Let us know in the comments section below.