Tomb Raider gets multiplayer. Yes, multiplayer…
| December 31st, 2012 |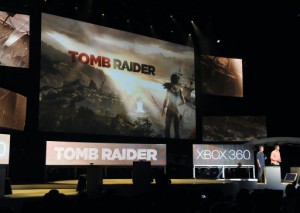 Lara's Crew take on the island scavengers in the game's online multiplayer component which was confirmed on Twitter by Karl Stewart, Crystal Dynamics global brand director.
There has been plenty of speculation surrounding the upcoming reboot of the Tomb Raider series by Crystal Dynamics, not to mention controversy. Tomb Raider explores the iconic protagonist, Lara Croft's origin story and how she went from being a no one into the famed adventurer.
The latest bit of news concerns the game's multiplayer mode, which has been confirmed by an official source. Karl Stewart, the global brand director at Crystal Dynamics, took to Twitter to announce that Lara Croft's return to the gaming scene would be accompanied by a multiplayer mode.
The mode is set to be similar to how the Uncharted games played out in their online modes. However, that is mere speculation at this point. Reports about the fact that the two factions online will be split into the shipwrecked ship's screw and the scavengers on the island seem to make more sense though and are more than little likely to be the basis for online play.
Fans seem concerned with the inclusion of multiplayer as Tomb Raider is set to become the first game in the series to introduce the feature. It is a trend that seems to be catching in recent years with the likes of Sony Santa Monica studios also adding multiplayer to the upcoming God of War game.
God of War: Ascension will see players fight for a Greek god of their choosing against players doing the same for others. It will be interesting to see how that works out but one can expect Tomb Raider's multiplayer to be more straightforward.
The game's development team did not have too easy a ride following the game's reveal as the trailer courted plenty of controversy. There was a scene where Lara was assaulted by one of the scavengers before she went on to kill him. Many groups felt that this showed women as weak and it became known as the attempted rape scene.
Crystal Dynamics though defended the sequence by stating that there was no alleged rape and the scene was significant because they wanted to show everyone how Lara took her first life by being forced into the situation.
The controversy has since died down and more attention is being given towards the game itself. More details are to be released later on this week and it is then that everyone will be able to pass a better judgement as to the game's multiplayer mode.
But what is your take on the inclusion of multiplayer in Tomb Raider; will it fly or crash? Let us know in the comments section below.