Top 11 Trailers of E3 2012: Part 3
| July 12th, 2012 |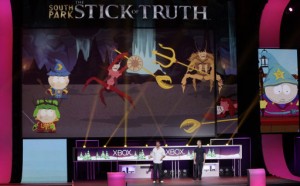 Medal of Honor: Warfighter ought to get first-person shooter fans excited as they saw the FrostBite engine being pushed to the limit, but E3 was not all about guns and experimental titles.
9. South Park: The Stick of Truth
Although the game had been announced well in advance of E3, there was no actual gameplay of the title nor were there any screenshots either. This made many forget the game was in the works but the game's E3 trailer was a great reminder of the upcoming title.
Whether it was the fact that it brought the only bit of humour to what was an otherwise dry Microsoft Press Conference or whether it was because of the fact that the two people presenting the game, who incidentally were the creators of the TV series, came on stage without any pre-prepared lines, unlike everyone else, South Park: The Stick of Truth was a welcome entry at this year's E3.
The trailer started off with an ominous tone before a classic South Park joke broke the ice and let loose what everyone expects from anything based in the universe. The trailer itself was goofy, fun and a breath of fresh air, which is perhaps the reason why so many enjoyed it so much.
To be fair, other trailers may have demonstrated their games better but between all the Xbox SmartGlass talk and the unimpressive Microsoft Press Conference, the Stick of Truth trailer brought a welcome sense of simple, no holds barred fun.
8. Halo 4
Halo made its eagerly anticipated return to E3 with a live-action trailer for the game. All those readers who are pointing their fingers at the screen and going on about how Halo appeared at last year's E3, need to be reminded that last year's trailer was a teaser, nothing more. This year however, Master Chief marked his return, with a live-action bang!
The Halo series, during its time under Bungie, was known for its live-action trailers and despite the developer having moved on, they seem to have lost their mark on the series as Halo 4 was revealed with a trailer that would put any Hollywood blockbuster to shame.
The live-action sequence really helped in connecting the audience to the reasons why Master Chief was fighting and when the live gameplay demo kicked in right after the cinematic, everyone was already on the game's protagonist's side.
Overall, Halo 4 made its mark on E3 with a mix of live-action and gameplay, which is why the game gets a number 8 ranking in our countdown.
Find out which trailer finished in seventh place by clicking here.
Disclaimer: the views and opinions expressed in this article are the writer's own and do not reflect the editorial policy of wishfree.com in any way.
Other People Are Reading