Top 11 Trailers of E3 2012: Part 5
| July 12th, 2012 |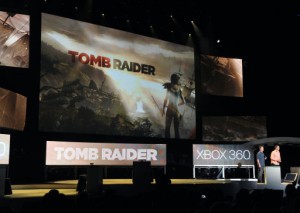 This year's E3 had its fair share of controversy as well with the now infamous Lara Croft 'rape' scene making its debut and causing quite a scene.
5. Tomb Raider
Eidos had its hands full following their E3 trailer of Lara Croft's reboot, Tomb Raider. The game started off with a grim, dark and desperate tone and it the fact that the game's protagonist went crashing to the floor multiple times gave women's rights activists a laundry list of things to get angry about.
Apparently, its ok if Nathan Drake falls and crashes into stuff but it's not ok for Lara Croft to do so. That however, is a topic for another day. Getting back to the trailer and the game seemed to borrow heavily from Naughty Dog's Uncharted series, in the sense that there was a grand scale and cinematic moments blended perfectly into gameplay.
However, to state the game was ripping the Sony exclusive series off would be harsh, especially since Uncharted raised the benchmark for everyone and Tomb Raider is only attempting to emulate it.
The trailer pretty much showed everyone how Lara Croft went from a rather timid character to the Tomb Raider everyone knows and loves. However, the main event that caused her change has been the reason for much controversy.
During the trailer one of the characters attempts to have his way with Lara Croft before she fights back and kills him. It turns out that it was the first time Lara killed a person and the moment lasts barely two seconds.
However, despite the game's developer adding both context and clarifying the scene, the controversy has not seemed to want to go away.
Controversy and the debate that comes with it aside, the trailer seemed to show everyone a glimpse of a promising title. There were plenty of set pieces ranging from going with the flow down raging rapids, to a tense few moments as Lara found herself in an old bomber plane with glass cracking all around her before finally falling through and, on her second attempt, releasing the parachute and navigating along the river till she finally landing on solid ground.
If ever there was a trailer declaring a statement, the Tomb Raider E3 2012 trailer was it. The trailer not only showed off what gamers could expect in the origin title of the series but also raised a number of talking points as well.
It is for these reasons that Lara Croft's return to the triple-A scene comes in 5th in wishfree.com's countdown of the best trailers of E3 2012.
Find out which trailer finished in 4th place by clicking here.
Disclaimer: the views and opinions expressed in this article are the writer's own and do not reflect the editorial policy of wishfree.com in any way.