Top 11 Trailers of E3 2012: Part 6
| July 12th, 2012 |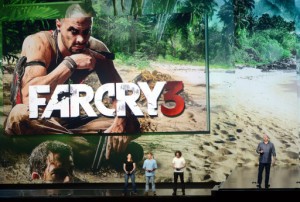 Moving on to the top five now with a trailer which raised quite a few eyebrows when it premiered during Ubisoft's Press Conference and kept them raised till the very end.
4. Far Cry 3
Ubisoft deserves a commendation for keeping E3 interesting this year and really raising the bar in terms of content, style and presentation but at the same time they also introduced the element of 'shock' in their presentation and that too to great effect.
Those who saw the E3 trailer for Far Cry 3 will know exactly what the 'shock' was and for those who do not, it would be best they see the trailer first for themselves. As for the lazier readers, well, wishfree.com's dedicated team of writers is here to fill you in.
The trailer started off with a the player's vision blurred and slowly coming back into focus to see s scantily dressed lady sitting on his lap – only her dress was a few patches of paint and lets just say she wasn't sitting on the lap.
In essence, the audience got quite a dose of female frontal nudity, something that hasn't happened at an E3 Press Conference before. However, as the trailer continued the visuals and the action made everyone forget about how the trailer had started off.
The game boasted explosive action, free roaming action and an ending that would twist anyone's mind but then again the trailer and the game both revolve around the 'definition of insanity' and in more ways than one the Far Cry 3 trailer was insane.
It had sex and it had violence, two things that sell really well, but what was different was that they were both handled well and done with some class. The result was a trailer that had everyone talking about the game and it seems that Far Cry 3 really could be the title that will make the series a must-have for everyone who qualifies to be able to play it.
Far Cry 3 impressed last year with its debut trailer but it seems that Ubisoft has really thrown its weight behind the title as it not looks great but one can get the sense that the publisher is really banking on the game being a success as they look to tap into the first-person shooter market.
The Far Cry 3 trailer is fourth not because of the nudity but rather because of its use of the 'shock and awe' tactic, which it pulled off beautifully as everyone was shocked and then left in awe of the sandbox first-person shooter.
Find out which trailer finished in 3rd place by clicking here.
Disclaimer: the views and opinions expressed in this article are the writer's own and do not reflect the editorial policy of wishfree.com in any way.
Other People Are Reading