Ubisoft allays Wii U GamePad lag concerns
| October 16th, 2012 |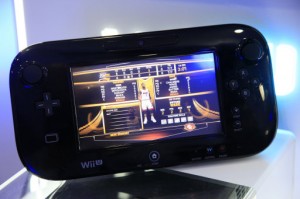 The Assassin's Creed and Far Cry developer assures gamers that the GamePad is "really responsive" as worried fans wondered whether streaming content on the pad's screen would slow down response time and thus ruin the experience with lag, the eternal enemy of the gamer.
Lag and gaming together in the same sentence is rarely a good thing as it destroys the overall experience for nearly everyone. It may be beneficial for the host who has the best connection playing against those who aren't even on the same continent, but 99% of the time, it remains the enemy.
One can imagine the concerns of the gamers when they heard reports of the Wii U's GamePad being laggy and requiring a cable to run at non-lag speed. Those reports went unanswered by Nintendo for long enough for doubts to have set in.
However, Nintendo came out and assured the public that they were working on optimizing the product and that the final retail version would not suffer from the issue of pressing a button and having to wait for the response to affect.
That did little to assure fans but now Ubisoft has jumped to the Nintendo Wii U's defense, claiming that competitors will have to really hit the nail on the head with their solutions as the responsiveness of the GamePad is quite impressive.
Michel Ancel, the man behind the Rayman series, explained that, "the response time is crazy. In fact, and I think competitors will need some time to (get their solutions) this responsive."
So what exactly is the response time for the controller to receive an input and carry out the action? Ancel put in a figure and went almost teary eyed with affection (not really), "just 1/60 of a second, so it's one frame late. It's crazy. It's so fast, it's almost instant."
The Wii U has had an interesting announcement and pre-release period, as it went from underwhelming at both this year's and last year's E3 Press Conferences before all of its pre-orders were sold out almost as soon as retailers began allowing consumers to book their copy.
It still seems as if Nintendo are working out a few things, such as support for a second GamePad, but all in all, the console seems set to get the next generation of home consoles on their way. One has to wonder how long Microsoft and Sony can afford to take before they announce and release their next generation consoles, as Nintendo could very well run away with the Wii U the same way it did with the Wii and rule the market.
Whatever the case the excitement levels for the Wii U are going through the roof at the moment and one can only that the Wii U lives up to the hype.