Ubisoft announces Rayman: Jungle Run for iOS and Android
| September 8th, 2012 |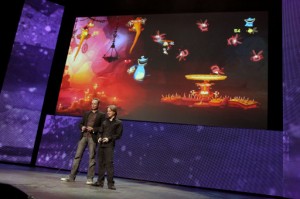 Ubisoft pleased a lot of gamers with their decision to re-invent its Rayman franchise by reverting back to its original side-scrolling roots for Rayman: Origins.
As it turns out, Ubisoft is far from done with the revived Rayman experience. The cuddly blonde character is headed to iOS and Android with the latest title in the franchise Rayman: Jungle Run, which is scheduled for release on September 20. The price of the game has not been announced yet.
Anyone who has played or even taken a look at the visuals of the last Rayman game will have plenty of reason to feel excited about the upcoming game. The cartoonish graphics, along with some excellent soundtrack and gameplay is just what gamers fed up of first-person shooters with realistic graphics and guns need.
The upcoming Rayman game will once again put players in the shoes of the lovable main character as he runs, jumps and collects various items.
The gameplay on offer sounds rather simple, but then again, maybe that is exactly what makes mobile gaming so much fun. There is no need to spend hours mastering the skills required to as much as survive during the game, let alone beating it.
Ubisoft Montpellier and Pasta Games are once again using the UbiArt engine which allows to convert drawings into in-game assets. The result of this particular technology has already been seen in Rayman: Origins and was greatly appreciated by fans.
Rayman: Jungle Run is expected to look even more impressive on Apple's new iPad because of the retina display.
The game will be using touch controls and players will be able to unlock wallpapers as they progress through the game. The iOS version of the game will include multiple cloud support as well as support for GameCenter, enabling players to keep track of their progress on leader-boards.
It hardly comes as a surprise to see Ubisoft bringing the Rayman franchise to smartphones and tablets, since that is where majority of the casual gamers are found. These gamers are not interested in how much the developer has pushed the latest technology. They also do not go too much into the minor details and judge the game based on how it plays overall. If the difficulty level of the game is too high, they hardly think twice before moving on, searching for something that will better cater to their entertainment need without causing a headache and frustration.
With the market experiencing a massive growth in casual gamers, Ubisoft has surely made a wise decision to go for the Rayman franchise. Even though the gameplay is not as simple Rovio's Angry Birds, it still looks simple and attractive enough to draw the attention of gamers of all ages.