Ubisoft's Brothers in Arms: Furious 4 delayed until next year
| July 11th, 2012 |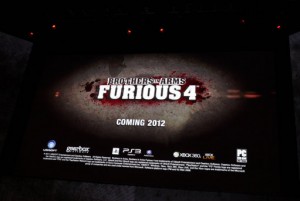 Fans of the Brothers in Arms franchise will have to wait a little longer to get their hands on the latest sequel as it has been delayed until 2013.
In a recent interview with CVG, Gearbox Entertainment's CEO Randy Pitchford confirmed that while the first-person shooter was to be released this year as per the original plan, the release date is being pushed back in order to buy more time to introduce a few significant changes.
"The game has evolved, I think people are going to be surprised by what they'll see, and it's still evolving. One of the reasons why we're not talking about it now is that it's evolving and we need to make further changes before we can start talking about it," stated Pitchford.
While it has been revealed that the upcoming sequel to the Brothers in Arms franchise has evolved, it is not clear what this actually means. Gearbox Entertainment probably may have good reasons to remain mysterious about the new changes, but the studio appears to be really confident that these changes will serve to make the game unique and appealing.
He further added that this was all he could reveal about Brothers in Arms: Furious 4 at the moment. Conceding that he is really looking forward to talk about the game, Pitchford said that he may possibly come around and open up about the game after the release of Borderlands 2, which is slated for September 2012 release.
Brothers in Arms: Furious 4 was first revealed by publisher Ubisoft at the Electronic Entertainment Expo (E3) last year. The game was originally scheduled to come out in May this year, but a trademark issue was thought to have led to the cancellation of the project. The rumour later proved to be wrong and the development of the game did indeed continue, though the release date got pushed back significantly as the developer bought more time to introduce a few changes.
The previous titles in the Brothers in Arms franchise had a very serious tone while dealing with World War II. As far as what has been revealed about Furious 4 and its story, the game will approach the subject matter quite differently. Instead of depicting a realistic take on the war, the upcoming first-person shooter will focus on four fearless soldiers as they chase Hitler in the heat of the Second World War. The players will get to use special weaponry and unusual combat abilities as they embark on the mission to take down the Fuhrer himself and protect the world against the greatest threat the world has ever come across, the Nazi uber-weaponry.
Judging by the posts on forums, the fans are not thrilled about Gearbox Entertainment's deviation from the approach towards World War II, Staff Sgt. Matt Baker and the 101st Airborne Division in the upcoming sequel.