UK Halo 4 pre-orders full of in-game content
| September 20th, 2012 |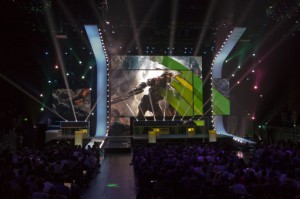 Retailer exclusive rewards listed for 343 Industries upcoming game as the world gears up for the return of Master Chef…err, Master Chief.
There is just over a month to go before Master Chief will be cooking and tossing grenades at the Promethean forces before slicing them and peppering them with lead and energy. The game is set to release on the 6th of November and our Master Chief/Chef jokes will have ended long before then, which even we believe is something that will not be missed.
Getting back on topic and residents of the United Kingdom have plenty of choice on where they want to pre-order their copy of Master Chief's return from, with each offering an exclusive in-game item.
Starting things off with Grainger Games who are offering gamers the Red Pulse Armour Skin, which can be downloaded via the code offered by the retailer following the pre-order procedure. In fact, all the offers from all the retailers can be redeemed via download.
Play is offering the Deadeye Helmet and Blockbuster are offering a Xbox LIVE Spartan Warrior Avatar. At the same time consumers can also chose between Shop2net's Assassin Emblem or GAME's Blue Circuit Armour Skin, Arctic Weapon Skin and 6 specializations for multiplayer.
Tesco is the only retailer offering something other than in-game content as pre-order-ers who book their copy of the game will receive a Halo 4 T-shirt as well as Black Raptor Armour Skin. The latter being a downloadable in-game item of course.
HMV is the only retailer rivalling GAME in terms of content as they are offering the Locus Helmet, Purple Spartan Warrior Armour and Xbox LIVE Unicom Avatar Armour, all of which can be redeemed in-game using the code provided by the retailer.
It should be noted that these are simply pre-order incentives with Microsoft offering a Halo 4 Limited Edition as well.
The hype surrounding the return of Xbox's most iconic characters is immense and everything about the game that has been shown off so far has done nothing but add to the excitement and anticipation levels.
Master Chief is set to take on a new race of enemies known as the Promethean, a full guide to the Promethean enemy types and weapons can be found by clicking here. The enemy AI is also said to have received an extra layer of polish and one can expect the game to be the best looking Halo to date.
However, one needs to remember that the game is developed by 343 and not Bungie, meaning that there is extra pressure for the current developers to live up to their predecessor's legacy. Whether or not they can do that will define the success of the next three installments in the series.
Other People Are Reading