UK retailers run out of pre-order stock a week before Wii U's launch
| November 26th, 2012 |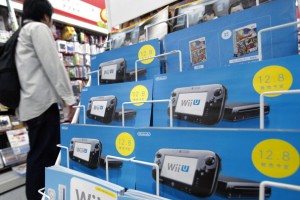 The world saw, in fact read would be a more appropriate word here, how Nintendo's first-ever HD console Wii U was sold-out weeks before it was due to launch in America.
The demand had been such that the retailers were forced to place even more shipment orders with the company in order to meet the demand, something that they have hardly been able to do so even today, a week after the console hit the shelves on November 18.
It turns out that the latest console by Nintendo is making the same impact in Europe even though it is due to launch on November 30.
A number of retailers have revealed to MCV that they are already out of pre-order stock, with some shops already contacting Nintendo to place an order for additional stock in advance.
HMV, a retail chain that is hosting the Wii U launch event in UK, announced earlier that it has secured extra stock from Nintendo to sell at the console's midnight launch.
Struggling to meet the demand in US, the Japan-based company is likely to find itself facing an even tougher challenge of meeting the Wii U demand in UK.
The impact that Wii U has made in American and UK is just what the company had hoped to see, despite expecting to find itself struggling to deliver enough consoles to the market.
Finding the latest offering by Nintendo making such a solid impact hardly comes as a surprise. The console, along with its unique tablet controller GamePad is all introducing the much-needed innovation in gaming.
The analysts were not too optimistic about Wii U in terms of its capabilities to offering a better gaming experience than the likes of PlayStation 3 and Xbox 360.
The views of the critics and the unenthusiastic response of gamers during Nintendo's press conference at Electronic Entertainment Expo (E3) earlier this year was not enough to bring the confidence of the Japan-based company down.
Getting itself third-party support was one of the best things that Nintendo could have done to ensure its success in the coming months.
The likes of Ubisoft and Electronic Arts (EA) were all set to bring their most renowned franchises to Wii U.
Ubisoft in particular remained extremely vocal about its faith in Nintendo's HD console, expecting it to redefine the gaming experience and making its own space in the market irrespective of how large the install base of its competitors.
Additional features such as TVii and Miiverse further added to the appeal of the console, thus making the critics finally acknowledge the potential of Wii U to do extremely well in the market.
There are still a number of challenges that Nintendo has to overcome, with meeting the market demand being just one of them. However, the company seems more than ready to deal with whatever challenge awaits it.