Valhalla Game Studios reveals future plans for Devil's Third
| July 10th, 2012 |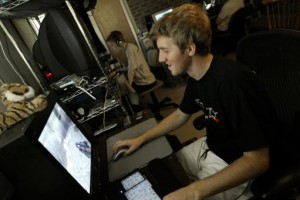 Valhalla Game Studios has announced its plans to expand Devil's Third into a blockbuster franchise, along with making the game available on various platforms and digital devices.
The future of the first third-person shooter by Ninja Gaiden creator Tomonobu Itagaki appeared rather foggy after THQ returned the rights of the intellectual property to the game's developer. While this did come as a blow for Itagaki and his team, they decided to convert this into an opportunity rather than dwelling in disappointment.
In the first statement by the studio's CEO Satoshi Kanematsu on the game's official website, it was confirmed that THQ had indeed transferred all the rights of Devil's Third back to the developer.
"Valhalla Game Studios would like to announce that after negotiations with THQ and with their generous cooperation, both parties have reached an agreement whereupon all rights related to the Devil's Third project, including development and distribution rights, have been transferred in full from THQ to Valhalla Game Studios," read the update on the game's website.
Kanematsu further went on to reveal that the studio now planned on releasing the game on PC and other digital devices. Originally, Devil's Third was only coming out on the PlayStation 3 and Xbox 360 console. The decision to release a PC version of the game may be associated to the studio's goal of reaching out to as many markets as possible.
Valhalla Game Studios also revealed their plans to ship the upcoming game for other digital devices as well, though it is not yet clear what these devices refer to. Judging by the current market trend, the studio could very well be considering a release of the game for the mobile platform. Of course the game would have to be totally remade for mobiles, but taking the studio's commitment to expanding the game into account, the guess may not be that far off from reality.
Kanematsu also unveiled the plans of Valhalla Game Studios to expand Devil's Third beyond video games and into film, animation, manga and novel with the intended motivation of increasing the appeal of the intellectual property and turning the title into a blockbuster franchise.
"We are also looking beyond the boundaries of video games and plan to work with other various forms of media, including manga, novels, animation and film, to create a blockbuster franchise," read the statement. "We will continue to do our best to fulfil your expectations, and we sincerely hope for your continued encouragement and support."
Support is exactly what the makers of Devil's Third require right now. Currently in its final stages of development, the game has cleared a number of hurdles since its announcement in 2009, which include the studio that developed its graphic engine going out of business and THQ's putting the game on hold for indefinite period because of financial constraints. Hopefully the development of Devil's Third goes smoothly from here on.