Valve trying to make Dota 2 run on tablets
| December 11th, 2012 |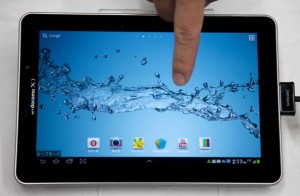 Valve working on bringing Dota 2 to tablets, initial tests failing to bring satisfactory results, tech advancements a reason to remain hopeful.
Half-Life maker Valve Corporation has been working on brining Defence of the Ancients (Dota) 2 to tablets.
During an interview with Kotaku at the Video Game Awards show in Culver City, California, on Friday night, the company's boss Gabe Newell conceded that a tablet version of the free-to-play multiplayer online battle area (MOBA) game has been one of the many interesting software projects that they have been working on.
The results, however, have not exactly been what they would have liked, but that has hardly deterred the hope of the company to one day successfully port the game to the handheld device, thanks to the rapid advancement in technology.
"We were working on getting Dota 2 running on some tablets," Newell said. "That ended up being kind of a disappointment. But the good news is that tablets are getting faster very quickly, so I think we'll get the kind of performance we want and other game developers want in the near future."
The stand-alone sequel to the DotA mod for Blizzard's WarCraft III: Reign of Chaos and its expansion pack WarCraft III: The Frozen Throne has been in development at Valve for over two years now and even though a beta version has been available for the past few months, the full release is still pending.
The company had announced that the full version of Dota 2 will be arriving sometime in 2012 on PC and Mac, but it seems that the release date may get postponed until next year.
Ever since starting on the Dota 2 project, Valve has committed itself to ensuring that the game lives up to the expectations of the fans of the original mod that has an install-base in millions around the world.
IceFrog, the anonymous developer of DotA, has been brought onboard by Valve for the Dota 2 project in order to keep the experience as authentic and close to the true spirit of the original MOBA game as possible.
The efforts seem to be bringing the desired results so far, as the beta version of Dota 2 has been received positively by millions of gamers around the globe.
The revamped graphics and strong game engine has resulted in a beautiful presentation, while the use of newer technology as compared to the one that is being used for DotA has allowed Dota 2 to address some issues that players constantly complained about in the original game, such as leavers and long learning curve.
Attempting to port Dota 2 to tablet appears to be a very wise strategic decision on part of Valve, as the platform is growing in popularity at a rapid rate.
Other People Are Reading