Vita remains to fourth despite increase in sales in Japan
| December 8th, 2012 |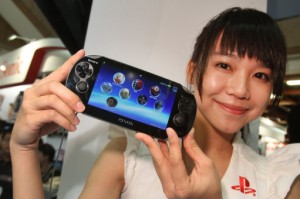 Sony's second generation portable console loses out to its predecessor, the PlayStation Portable, for the second week running.
It has been a while since there has been any considerable movement in the charts as the top eight selling consoles in Japan have remained largely the same for the past year or so.
Remaining in top spot is Nintendo's unstoppable portable console, the 3DS. Ever since the price drop, the console has been at number one and remains miles ahead of the competition. A constant supply of new games means and the already established consumer base means that it is a safe bet for developers to create games for and a safe bet for gamers to purchase because they know that there will be games for it.
The 3DS sold 167,408 units in the previous week, which saw a considerable increase from the 162,077 units it sold the week before. By considerable, we of course mean the fact that the sales already quite high and are only getting higher.
In second place, seeing drop in sales, is Sony's PlayStation 3. Despite the best-selling game of the week, 2nd Super Robot Wars OG, being a PS3 exclusive, the console failed to register a spike in sales as it only moved a total of 29,809 units as opposed to 34,167 units from the week before.
Finding itself in third place for yet another week is the PlayStation Portable. The PSP has seen a surge in sales in recent weeks as it continues to outsell its successor. The console saw a dip in sales from 16,903 units from two weeks before to the figure of 15,941 units recorded in the previous week.
However, Sony must be wondering what they need to do in order to get more Vitas out of shelves and into homes as the console has been struggling since its release. The manufacturer may have been buoyed by the fact that the Vita saw an increase in sales from its four-figure number at 9,712 units to its latest five-figure number of 11,066 units sold. The reason for the increase can be attributed to the fact that two new games for the console debuted in the top ten.
Seeing a considerable increase in its sales, the Nintendo Wii also made a solid case to be noticed and noticed it shall be as the console saw a spike in sales as it went from 3,590 units to 5,5550 units.
There seems to be a solid pattern emerging in terms of the Vita's sales trends and Sony will be looking for that killer, platform defining title that will see an upturn in the console's fortunes. However, for the time being it seems the best the Vita can do is stay around the 10,000 units sold per week mark.