West Virginia Democrat senator introduces bill to study effect of violent games on children
| December 22nd, 2012 |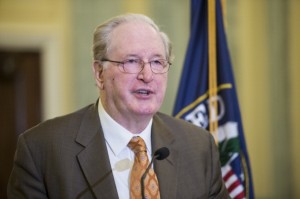 Democrat West Virginia senator introduces bill to study the effect of violent video games and other programmes on children.
The whole world is still in shock after the shooting at Sandy Hook Elementary School in Newtown, Connecticut, that resulted in the death of 20 children and six adults on Friday, December 14, and is anxiously waiting for the government to take measures to ensure that the American nation does not come across such an act of inhumanity ever again.
In wake of the deadly shooting and questioning look of the American people, Democrat West Virginia senator Jay Rockefeller has introduced a bill to congress, tasking the National Academy of Sciences (NAS) to conduct a thorough research on the effects of violent games and programmes on children.
The senator said in a statement on his website that major companies are earning billion of dollars through the sale of violent content to children while completing ignoring their responsibility to protect children from such content.
He said that the congress will not sit idle and let such companies continue to act on greed while turning away from their social and moral responsibilities.
"Major corporations, including the video game industry, make billions on marketing and selling violent content to children," Rockefeller said in a statement to his website. "They have a responsibility to protect our children. If they do not, you can count on the Congress to take a more aggressive role."
If the bill gets passed, the NAS would be asked to study and investigate the link between violent video games and other programming and their harmful effects on children.
The comprehensive study would be carried out to determine if exposure to violent content contributes to a child acting aggressively and if it puts their well-being under threat.
It will also investigate the "direct and long-lasting impact" of violent games and programme's on a child's well-being.
"With respect to violent video games, NAS must look at whether current or emerging aspects of games, like their interactive nature and the personal and vivid way violence is portrayed, have a unique impact on kids," the statement reads.
Aside from tasking NAS with the study on violent content and its effect on the minds and well-being of children, Rockefeller said he will also call on the Federal Trade Commission (FTC) and the Federal Communications Commission (FCC) to increase their efforts to protecting kids from content that is not appropriate for them.
He noted that with the advancement in technology, parental control has lost its effectiveness and therefore the FTC and FCC needs to shoulder the responsibility of keeping harmful content out of a child's reach.
NAS will have 18 months to complete and present its report to Congress, FTC and FCC if the bill passes.