Wii U launch date and price announced for Japan
| September 16th, 2012 |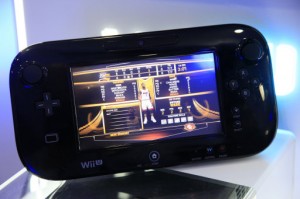 The suspense over the launch date and price of Nintendo's next-generation console is finally lifted, well for the Japanese consumers at least.
During the first of two Japanese Nintendo Direct events, it was announced that the Wii U will hit the market on December 8.
It was further revealed that the console will be available in two different models, Premium and Basic.
The Premium set will come in black colour, feature 32GB of flash memory, a black GamePad, an AC adapter, a HDMI cable, a console stand, a GamePad dock and probably the most attractive part of the set, a two-year Nintendo Network Premium subscription.
The subscription will allow consumers to purchase games through a digital channel at a discount of 10 percent. Anyone purchasing the Premium bundle will have their subscription expire in the final month of 2014.
The Premium bundle of Wii U is priced at ¥31,500, which is approximately $US405 according to the current exchange rate. The price in US dollar is just for context and does not necessarily reflect the price of the hardware in regions other than Japan.
The Wii U Basic bundle is going to be available in the market in white colour, feature 8GB of flash memory, a while GamePad, an AC adapter and a HDMI cable. The item most noticeably missing from the package is the two-year subscription to Nintendo Network Premium.
The Basic bundle will cost ¥26,250, which is approximately US$337 as per the current exchange rate. Once again, the conversion of the price to the American currency is done to give you a better idea of the price at which it is being sold in the Japanese market. There is hardly any reason to believe that the hardware will be available for the same price in other regions since the market forces vary from country to country.
An additional Wii U GamePad can be bought for ¥13,440, which is equivalent to $US170. It appears that the console itself costs half the amount of what is being actually charged, while the other half belongs to the price of the GamePad. Hopefully Nintendo will justify this price soon, as this can become a bit of a problem for the company later on.
At first look, the prices look a bit high, especially since the console will be competing against the existing players in the market such as PlayStation 3 and Xbox 360. Despite belong to the current-generation space, both Sony's and Microsoft's consoles are believed to possess greater technological capabilities and therefore present a challenge for Nintendo to convince consumers to spend money on their latest hardware.
Another thing that seems almost certain is that the price at which Wii U is launching will be much cheaper than the price that of PlayStation 4 and Xbox 720 at the time of their launch.