Wii U launch event to go down in NYC, Nintendo of America boss to sell first console
| November 13th, 2012 |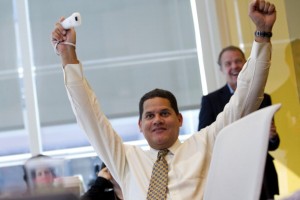 The clock is ticking, bringing the world closer to the launch of Nintendo's next-generation console Wii U in North America with every passing second.
Due to touch the hands of the first customer on November 18 in America, the upcoming console has a whole launch event planned for it.
Nintendo has revealed its plans of hosting a Wii U launch event at the Nintendo World Store at Rockefeller Plaza in New York City.
The proceedings of the event will get underway in the evening on November 17.
President of Nintendo of America Reggie Fils-Aime is also going to be attending the event and will in fact be making the sale of the first Wii U to the first lucky customer in queue following the mid-night countdown.
That is not all. The company has also announced that the there is a limited stock of premium items that the fans waiting in line for their Wii U will be able to get their hands on.
The item has not been revealed, but if there is one thing that Nintendo knows really well, it is the awareness of what the people really cherish and therefore the item will be something along the lines of that.
It has been quite some time since the gaming industry has been stuck in somewhat of a quicksand. The likes of Sony and Microsoft have been looking than happy focusing on their current-generation consoles that have lived way more than the consoles of the previous generations.
The developers are facing plenty of challenges as they are being forced with work with technology that is nearly a decade old.
All these things have allowed the likes of smartphones and tablets to capitalise on the situation and entice the market that has grown weary of the same old experience.
While the PlayStation and Xbox 360 seem to remain indifferent towards the growing anxiety and frustration in the market, Nintendo has reacted to the situation by bringing out its next-generation console.
The latest system will feature a unique tablet controller called the GamePad, which has become the most talked-about controller in recent times. There will also be a more traditional Pro controller for gamers who are yet to prepare themselves for a massive change.
Wii U will have two versions coming to the market, with the basic edition priced at $300 and deluxe edition priced at $350.
Nintendo's latest console will be launching with 23 titles, which includes the latest title in the Assassin's Creed franchise, as well as the first-person shooter ZombiU. Mario, of course, is also on the list of launch titles.
The fans of Zelda will, however, have to wait a bit as Nintendo has confirmed that the game will be arriving sometime during next year.