Wii U price too high for Wedbush analyst
| September 20th, 2012 |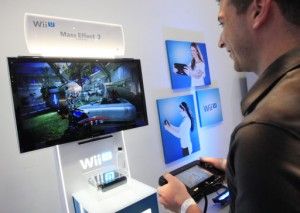 Michael Pachter believes that Nintendo will cut the price of its next generation console as it is too high to maintain demand especially with fresh competition from Apple and Amazon.
Nintendo announced the price points for its two Wii U models during the Nintendo Direct conference which was held last week but it failed to bring out the kind of reaction the manufacturer would have hoped. In no way was there a sense of disappointment as $300 is a reasonable price, however, the entire Wii U package is something that the entire market is currently cautious about.
The dual screen concept, coupled with console's lack of 'next-gen' power has a number of gamers cautious about approaching the Wii U, although the price itself has a bit to do with it as well, yet it is the other factors that are playing a more dominant role.
According to Wedbush analyst, Michael Pachter, the Wii U's pricing is appropriate but it will struggle against tablets during the holiday season.
He explained that the "Wii U's price points are appropriate given likely demand from Nintendo's core fan base, but believe that pricing will be too high to sustain demand given current competition from other consoles and tablets."
However, selling the console at a high launch price would benefit Nintendo according to  Pachter, "Nintendo was smart to introduce the Wii U at higher price points in order to maximize initial sales from its core audience."
According to the analyst, the Wii U should sell anywhere between "1 – 1.5 million" units in the United States alone and that too in between the console's release and January.
The biggest bit of speculation came when Pachter predicted that Nintendo would lower prices once the launch period hysteria died down. He said, "Once initial demand begins to subside, we expect Nintendo to lower prices."
However, the launch period excitement could last a couple of months, as Pachter went on to state:
"We don't expect a price cut until summer 2013, at the earliest, but do expect a cut prior to holiday 2013."
It is an interesting assessment as Nintendo earlier stated that consumers could expect the prices to stay pretty much the same throughout the Wii U's lifecycle, or at least until it stops selling as well as Nintendo would want it to.
But what about the readers; do you think Pachter's prediction is accurate or is he simply making too many assumptions? Also if it is accurate in your minds, then would you buy a Wii U right away or wait for the price to drop? Let us know your answers to those questions in the comments section below as the world gears up for the release of the Nintendo Wii U.
Other People Are Reading