Wii U version of Ghost Recon Online to be released after PC version
| June 20th, 2012 |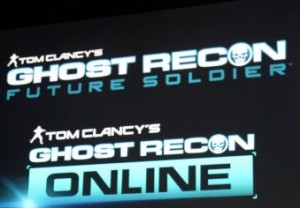 Ubisoft has confirmed that they are currently working on getting their upcoming free-to-play shooter ready for the PC and any plans for a release on the Nintendo Wii U have been on hold.
Ubisoft has grown into one the gaming world's biggest names in publishing with franchises such as Ghost Recon, Splinter Cell and Assassin's Creed. However, the studio is diversifying its portfolio in more ways than one as it also plans to tap into the emerging free-to-play market as well.
Its latest project, Ghost Recon Online, is set to give gamers their first taste of Ubisoft's debut on the free-to-play model as other studios, such as CryTek is also looking to do the same.
However, despite showing more support for the Nintendo Wii U than any other publisher for the Nintendo Wii U it seems that Ubisoft are not as enthusiastic about releasing Ghost Recon Online on the next generation console.
That is not to say that they have scrapped their original plans or do not plan on releasing the game on the Wii U but rather are focusing all their efforts on the PC SKU of the game before moving on to the console version.
A spokesperson from Ubisoft said, "Our focus has been entirely on delivering a great launch on PC." The statement continued, "Achieving that has been an all-hands-on-deck effort for the team this year."
"We're looking forward to seeing what we can do on other platforms like Wii U once we're on solid ground with the PC launch. We'll have more to share later."
It seems like there is still quite a while to go in terms of any news regarding progress on the Wii U version of the game but the fact that the game is free to play should mean that there will not be too many complaints, unless people like complaining about free stuff, which is another case entirely.
At the same time the game is being developed by Ubisoft Singapore and is the studio's first major project on such a scale. The studio has promised that Ghost Recon Online will be "the most social, connected and customizable Ghost Recon experience yet."
Ubisoft showed off a number of titles currently in development for the Nintendo Wii U including Assassin's Creed 3 and a new Rayman title. However, it turned the most heads with the upcoming first-person zombie-apocalypse shooter, ZombiU, which up till this point was the only notable Wii U exclusive on the show.
The game is a brand new IP and Nintendo will be hoping for many more titles along the same line if it wishes to carve a slice of the core gamer segment for itself.
We will provide more on the story as and when the news breaks.