Wii U version of Mass Effect restricted to 720p
| September 4th, 2012 |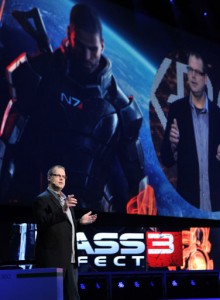 Straight Right, the developers responsible for porting the game to Nintendo's console, has revealed that the game will not run at 1080p as many were expecting, which could prove to be a blow for both EA and Nintendo.
The Nintendo Wii U is nearing it's, as yet unannounced, release date and with it comes the hype and announcements by developers about their latest games and projects. One such studio is Straight Right, which is currently porting Mass Effect 3 to be playable on the Wii U.
The game has been confirmed to be a launch title for the console and as such, has high hopes pegged on it, as is the case with every release title. However, fans expectations have dampened a bit after Straight Right announced that the game would run at 1080p but rather, "the game will run at 720p."
One of the major selling points of Nintendo's new console was the fact that it was slightly more powerful than the current generation of titles and the fact that one of its more notable launch titles would run the same as it does on the PlayStation 3 and Xbox 360 is a major blow.
Nintendo however, seem to be focused less on power and more on providing a new gameplay experience with the dual screen concept, so all isn't lost yet, although a number of gamers will be on the fence to see how everything works out before they jump in on the action.
Mass Effect 3 for the Wii U is set to come with a host of extra content and more features including, "bonus DLC" which will contain, "the Extended Cut, an interactive back story covering previous events in the Mass Effect universe, and Mass Effect 3's critically acclaimed multiplayer experience."
Whether or not the extra content pulls gamers is something that remains to be seen, especially seeing how a majority of gamers have already played the game on their current generation platforms.
Other launch titles for the Wii U are FIFA 13, Assassin's Creed 3 and Batman: Arkham City. There is also a Nintendo Wii U exclusive in the form of Ubisoft's post-zombie apocalyptic first-person shooter, ZombiU, which at this point in time seems to be the only major pull for core gamers towards the console.
There is no doubt that the Wii U still has plenty of convincing to do, however, Nintendo is confident that the console will prove itself once it is in the hands of the gamer rather than being shown off by someone else.
But what does the reader think; has the Wii U impressed them so far or will they wait to see how things pan out before they consider investing in one? Let us know in the comments section below.
Other People Are Reading