WipeOut 2048 Demo – Worth downloading?
| July 17th, 2012 |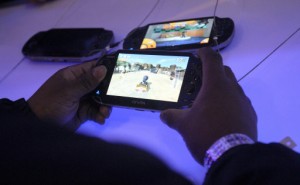 The PlayStation Vita has quite a few demos on offer but that does not mean they are all worth space on the memory but is WipeOut 2048 worth a download or one everyone should pass?
To start off with, the WipeOut 2048 demo is a single-race that gives player a short but sweet taste of what they can expect from the full game. The game is developed by Sony Computer Entertainment's first-party studio, Studio Liverpool and is one of the heavier downloads on offer on the PlayStation Network.
When players start the demo they are greeted with the usual title, published by and developed by screens (we apologise for pointing out the obvious at this point), which breeze by fairly quickly.
The Game Mode menu comes up which shows the four following options: Single Player Campaign, Online Campaign, Ad Hoc and Cross-Play. However, only the first option is available for the demo and Online, Ad Hoc and Cross-Play require a purchase of the full game to be unlocked.
Once the Single Player campaign is selected a welcome screen with a brief storyline pops up on screen before a dynamic background with the race option.
The only race on offer is of three laps, which is extremely brief and takes place at the Empire Club track. The player is required to finish in at least third place if he wants to Pass. This bit shows off how the single-player campaign will rely on more than just finishing first in every race in order to progress.
Next up is the loading screen and to be honest, it does take quite some time to start the race up. In actuality it may just be under a minute but it will be a fairly long under a minute.
The race itself is thoroughly enjoyable. Players use the Right trigger to accelerate, the Square button to brake, Circle to absorb power ups and X to use those power ups. Despite all of that one feels that the race should have gone on a bit longer as three laps fly by…literally.
One can understand why the other game modes were not available for the demo, with them being focused on online play; the one race that players do get to play should give everyone an idea of the fast-paced action packed game that is WipeOut 2048.
Verdict: A short but extremely sweet demo. Definitely worth a download if anyone is considering purchasing the full game but isn't sure whether they should. It is also great for those on the fence on whether or not they should invest in the game.
8.5/10
Disclaimer: the views and opinions expressed in this article are the writer's own and do not reflect the editorial policy of news.wishfree.com.
Other People Are Reading