World of Warcraft: Mists of Pandaria receives a green signal by Chinese government
| September 10th, 2012 |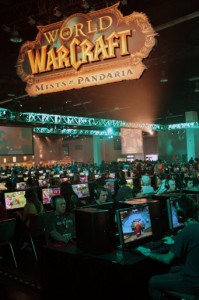 There is a good news for the Chinese fans of World of Warcraft as the Chinese government as given the green signal to the operation of the upcoming expansion pack Mists of Pandaria in the region.
Blizzard's critically acclaimed massively multiplayer online role-playing game (MMORPG) has had a bit of trouble with the Chinese government in the past due to the content of the game.
Wrath of the Lich King, one of the earlier expansion packs of the game, arrived in China two years after its release worldwide because the government had reservations over the violence depicted in the game.
Another expansion pack Cataclysm, released about two years ago, hit the People's Republic this June.
In start contract to the previous expansion packs, Chinese Ministry of Culture has shown a bit of leniency this time around and given its approval to the Chinese web operator Netfase to operate the game in the region.
This is big news for both Blizzard as well as the Chinese fans since the government's earlier stance regarding the upcoming expansion set made it seem like it would be another couple of years before it was allowed to distribute in China. This time, the Ministry of Culture objected to the game's content because of the depiction of pandas being beaten down to a pulp. The Chinese laws are really strict when it comes to online content and what the children are being exposed to.
The World of Warcraft: Mists of Pandaria is scheduled to arrive in the American and European markets on September 25. However, the release date for China is not yet confirmed.
World of Warcraft is one of Activision Blizzard's biggest and most popular franchise, with users rising above the 12 million figure a few years back. However, the game has begun to gradually lose its popularity in recent years, with the focus of online gaming fans shifting to other games such as Diablo III and League of Legends.
Acknowledging the fact that the game is beginning to lose its grip over games, Activision Blizzard is hopeful that the Mists of Pandaria expansion pact will not only keep the existing players interested in the game, but will also attract the previous players back to the game and experience the wide range of new content that is being introduced.
Judging by the reaction of fans on some of the forums, the upcoming expansion set will not be able to make a very solid impact. While the current players are feeling too pleased about Blizzard changing stuff that they were satisfied with, gamers who have moved on to other games are not finding the new content appealing enough to consider logging into the Battle.net account again.