Writer plays down Tomb Raider controversy
| September 19th, 2012 |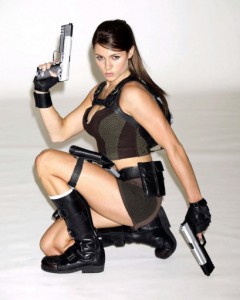 Diverts attention to lack of character diversity and representation in the video game platform as a whole as she believes the industry needs to put an end to the stereotypical hero.
Tomb Raider is the reboot of the classic series known for its dual-pistol wielding female protagonist, Lara Croft. However, in previous iterations of the game Lara has always been in control of the situation and comfortable with mowing down legions of enemy AI.
However, the latest game, which an origin story, is a far more gritty, visceral experience that shows how Lara went from being an innocent girl, shipwrecked and marooned on the island, to becoming what gamers know her today.
That one scene in particular has caused more than its fair share of controversy, as the assault on Lara, which results in her taking her first ever life – that of the assailant – was viewed by many as showing women as weak and victimized. The media quickly latched on to the story and before anyone knew what was happening, the headlines were all about the attempted rape scene in the game.
The game's developer, however, tried to add context to the scene by signifying its importance but that has done little to quell the fury from some sections of the media and the gaming community.
When asked about her opinion on the matter, the lead writer for Tomb Raider, Rhianna Pratchett, explained that although women were not represented in the best way possible on the medium, other minorities had it just as bad.
She said, "As a whole, it's (representation of women) not great. But then neither is the representation of non-white characters, or gay characters or, in fact, any character who isn't white, male, mid-20s and gravelly voiced."
According to her, "The games industry has a lot of work to do as far as character diversity and representation is concerned."
A number of female protagonists in the world of video games have more to do with adding sex appeal to the game such as the heroine in Wet and although Bayonetta was a solid game one has to wonder whether having her more than half naked during the special move sequences was really necessary.
However, the debate on that matter is ongoing and one will have to see whether or not the critics can relate more to the controversial scene in Tomb Raider once the game is released, in order to find out which direction it will go.
But what about the readers; did they find the assault scene offensive or did it do its job and bring a raw, visceral sense into the game? Let us know what your thoughts are in the comments section below.