ZombiU Premium Pack revealed for Europe, looks beast!
| October 15th, 2012 |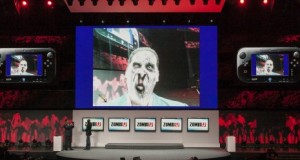 Nintendo has revealed a Premium Pack for all those looking for the complete ZombiU experience on the Wii U. It comes with the console, a game and two different controllers but it costs more as well.
Ubisoft single handedly stole the Nintendo E3 show this year when they unveiled their upcoming Wii U exclusive zombie apocalypse survival-horror first-person shooter. The Wii brand has a brand image of being a family and casual gamer friendly console with little scope for the hardcore gamer.
The Wii U on the other hand is looking to go the way of the PlayStation brand and become more of an all round performer, able to cater to the needs of every gamer. It has already added a number of games to its roster that will attract the core gaming audience to its console.
Titles such as Assassin's Creed 3, Batman: Arkham City (Armoured Edition), Mass Effect 3 and a deeper FIFA experience with FIFA 13. Darksiders 2 and Bayonetta 2 are also on their way to the console, as is Call of Duty Black Ops 2.
However, when it comes to Wii U exclusives, there really isn't much apart from Bayonetta 2, Pikmin 3 and the whole list of Mario games. That is, with the exception of ZombiU, which looks like the only game to really attract core gamers to the console.
Nintendo seem to have picked up on that and are offering a ZombiU Premium Pack for release in Europe. The pack comes with everything a gamer would need in order to enjoy the gaming experience.
Starting things off with the console itself, which comes with 32 GB of internal memory, which can be expanded by the user with external memory as well (sold separately of course).
At the same time the console and all the accessories will be black, instead of the standard white colour as well as a copy of ZombiU. Alongside it players will find both the Wii U GamePad and the Wii U Pro Controller, which core gamers will find themselves more comfortable with.
A Wii U console stand, GamePad Stand and GamePad Cradle will also be thrown in as well to entice the accessory savvy consumer. All the necessary cables will also be available as part of the Premium Pack. These include the Sensor Bar, Wii U GamePad AC Adapter, Wii U Adapter and an HDMI Cable.
To be fair, that is pretty much everything anyone would need to get the full Wii U launch experience. However, despite its value, the console's price may prove to be a stumbling block for some. The £330-350 price tag may put some off, despite it being a pretty solid offer seeing how the standard premium pack cost £300.
Other People Are Reading