FIFA 13's three core improvements: Service 2/3
| July 5th, 2012 |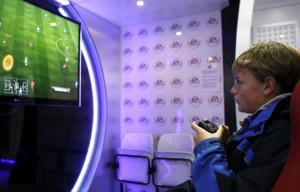 The EA Sports Executive Vice-President, Andrew Wilson, spoke about how innovation was a crucial element in FIFA 13's development process before he went on to state another important factor.
FIFA 13 will have the difficult task of trying to out-do its stellar predecessor, FIFA 12. The task may be likened to scaling Mount Everest, however, according to Wilson, the team has a strategy for ensuring that FIFA 13 will build on the success of FIFA 12.
The first point the team was focusing on was innovation, which meant pushing the limits of the gameplay, adding new features and improving both the attacking and the defensive AI.
However, those were not the only areas FIFA 13 looked to build on as Wilson explained the second focal point of the game.
"Secondly, moving from product to service, last year they launched EA Sports Football Club which started to push dynamic content to you, and we've taken that to a whole new level this year."
For those who do not know, EA Sports Football Club was a feature introduced in 2010, looked to connect football fans from around the world and reward them for their loyalty to their specific club. Global rankings were introduced along with head-to-head competitions and challenges that allowed players to try to change the biggest results which took place in actual football matches.
The feature proved to be a success and it seems EA Sports are looking to ensure that it remains an integral part of the FIFA series for years to come. He said, "There's more content, the content goes across platforms, it's engaging and they're really driving what they do there to ensure the game changes as you play."
Wilson boasted how EA Sports Club would continue to keep the game fresh and new, meaning that the game bought the day of purchase would be different from the one at the end of the game's lifecycle.
Wilson also highlighted how there was a surge in online play following FIFA 12's release, however, as time went by the game was phased out by other titles which were providing fresh content.
He said, "When you think about the fact that FIFA 12 had record online days six months after launch… we've got to build stuff that keeps changing. In the old days people who bought the game played it for a few weeks, put it away and then they were done."
So apart from innovation, FIFA 13 will also focus on providing fresh content. That takes care of two out of the three core pillars that Wilson talked about, as for the third pillar it turn out that the studio is focusing on creating a connected, interactive experience for FIFA players across all devices.
Other People Are Reading