FIFA 13's three core improvements – Innovation 1/3
| July 5th, 2012 |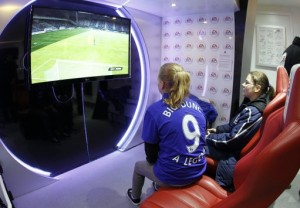 Electronic Arts label head, Andrew Wilson, highlighted the ethos the development team had adopted for FIFA 13 and his interview continued with him explaining the three major areas that the game was looking to improve.
Andrew Wilson began his interview by assuring fans that FIFA 13 would not be a simple re-pack of FIFA 12 with only a handful of improvements and features but instead would have enough value to warrant a purchase.
That obviously came from a sentiment that had grown over the years that all FIFA games were the same with only the odd new feature added. In essence it was regarded as the same game with a different cover.
However, according to the label head, that will not be the case this time around as he highlighted three core areas that FIFA 13 development team were focused on.
The first of those was innovation. He said, "We look at innovation – what are we doing that's going to change the way you play the game? What the team has done with Complete Dribbling, First Touch and things at that core 'twitch' of the game… it has you thinking differently."
Gamers and FIFA fans will be sceptical about the Complete Dribbling and First Touch controls as they have been promised the feature since the days of FIFA 2004 on the PlayStation 2 and PCs. However, this time around there seems to a real emphasis on the features and who knows, maybe dribbling and first touch control will finally become all that has been promised over the past decade or so.
Wilson also pointed out how the game's AI had been given a once over leading to some satisfying moments for the EA Sports Executive Vice-President and his boss. He said, "The way the AI makes runs too… I played against my boss a couple of weeks ago and took great joy at Drogba running down the middle and heading my cross straight in. It made my boss look very bad, which is always a lot of fun!"
Both the attacking AI and the defensive AI have been given special attention this time around as FIFA 12 did have players doing some pretty random things on the rare occasion, which led to plenty of frustration for the fans of the games.
It seems those issues as set to be ironed out with FIFA 13, as attackers will hunt for space and make more intelligent runs. That was it for the first pillar of the next iteration in the FIFA series however, Andrew Wilson had two more which he revealed during his interview.
The second focal point was taking the product, which is FIFA 12, and expanding the service side of things.
Other People Are Reading